Det jeg hører er hjelpeløst fattig og endimensjonalt. Det jeg hører når jeg ser, er vakkert og meningsfullt.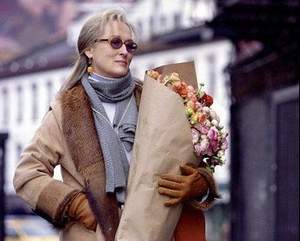 Triviell skjønnhet: The Hours har både Meryl Streep og Philip Glass' musikk.

Jeg er blant dem som ikke har skjønt greia med Philip Glass, en av minimalismens stilikoner. Sammenlignet med premissleverandør Steve Reich (Music for 18 Musicians og Six Marimbas) er det jeg har hørt av Glass et tynt og pompøst skall uten innhold. Der Reich fullender sjangeren og gir musikken den suggererende, hypnotiske, tidsoppløsende virkningen som kjennetegner minimalismen på sitt beste, er ikke Glass like konsekvent. Når fundamentet i musikken er så enkelt, blir det fort banalt når han vanner ut uttrykket med nestenklassisk dramaturgi og halvkvedede melodier. Jeg liker gjerne uttrykk som sklir ut av predefinerte rammer, men for å si det vulgært: pisser noen utenfor ramma, er det fremdeles bare piss. Dessuten syns jeg musikken virker utspekulert, tilpasset et minste felles følelsesmultiplum, og han bruker de samme kvasifunksjonsharmoniske akkordprogresjonene, ofte helt likt instrumentert, i alt han gjør. Trivielt?Alt dette kan jeg si med god samvittighet, for styrtrike Glass er regnet som den største nålevende komponisten i USA. Kanskje derfor jeg er grunnleggende skeptisk?
Det trivielle er i vår kultur stemplet som stagnasjon. I verste fall en frihetstyv, slik det kommer til uttrykk i filmen The Hours: Mrs. Dalloways doble avsky for og avhengighet av hverdagsligheten, forstadshustruens meningsløse tilværelse som interiør i et pliktoppfyllende møblert hjem, poetens fiende, eksemplifisert ved kokkens nedlatende blikk når Virginia Woolf har tankene et annet sted enn ved valg av ingredienser til lunsj. Filmen sier noe vesentlig om kvinners lodd.
Philip Glass' musikk til dette engasjerende og følelsesmessig utfordrende innholdet, er kameleonaktig tilpasningsdyktig, den forsterker opplevelsen emosjonelt. Da jeg noen år senere oppdaget musikken på plate, ble det umulig å høre den uten å tenke på filmen. Med cd-en Glassworks har jeg ikke trengt å se filmen igjen. Men jeg kjøpte den nylig og oppdaget til min store skrekk at den cd-en jeg hadde hjemme, på ingen måte var filmmusikken til The Hours. Herr Glass hadde bare laget to plater som hørtes like ut – igjen. Men Glassworks er mye bedre enn filmmusikken: enklere, bedre instrumentert, tematisk gjennomført, og den unngår de pompøse melodiene. Oppmerksomheten går heller mot de flertydige, repeterende figurene som minner om vann mer enn noe annet. Mitt indre lydspor til The Hours basert på Glassworks er slik: Spor 2, «Floe», er den voldsomme elva som truer både Virginia og den suicidale femtitallshustruen; Mrs. Dalloways hektiske forberedelser til kveldens store selskap ledsages av spor 4, «Rubric»; avslutningssporet «Closing», en variant av spor 1, spilles til rulleteksten. Det starter med fullt ensemble, og brått legger pianoet seg i forgrunnen. Når jeg kommer til dette stedet får jeg alltid en klump i halsen, og en følelse av noe som stemmer, og siden jeg ikke klarer å løsrive musikken fra filmen, så får jeg aldri svar på om Philip Glass egentlig er en god komponist, eller om det trivielle også kan være vakkert og meningsfullt, slik jeg har en mistanke om.

Publisert 06. mars 2009